Are you looking for Hunter 2 Wheel Alignment for your vehicle?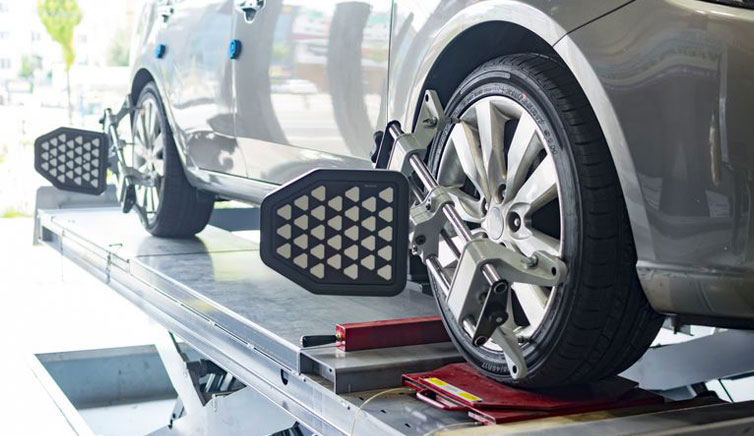 Did you know that faulty wheel alignment reduces a tyre's mileage by 20% and leads to faster tread wear?
Therefore, automotive experts highly recommend undertaking a routine and precautionary wheel alignment check after every 5000-6000 miles. This will help ensure that the axle geometry of your car is correctly aligned as per its manufacturer-recommended specifications so that you can enjoy an uncompromised car handling experience.
At Vicky Tyres, we offer you technologically advanced Hunter 2 wheel alignment Handsworth at extremely cost-effective rates. Therefore, if you are experiencing symptoms of faulty wheel alignment, come down to us. We will conduct a detailed inspection of your vehicle's wheel angles with cutting edge sensors and effectively restore them to their original position.
Also note: We possess all technological knowledge to handle complex specifications of various vehicle segments. Therefore, we can efficiently conduct the wheel alignment check of any car model and re-align them accurately, without any hassle.
Symptoms of faulty wheel alignment
Though ideally, you should opt for a wheel alignment check after every 5000-6000 miles, several factors can lead to misalignment in the wheel angles, even before the recommended time-frame, like:
Sudden jarring or impact by hitting some object on the road like a bump or curb.
If you have undertaken a height modification without altering the suspension system.
Worn-out suspension parts like struts, springs etc.
Therefore, you must be cautious and come down to us immediately for wheel alignment check Handsworth, if you experience the following warning signs:
An increased pull of the vehicle in one direction when driving straight at a constant speed.
Uneven and frequent tyre wear
Crooked steering wheel
Reduced braking response
Squealing noise from the tyre while braking
Reduced fuel economy, and more.
About Hunter wheel alignment technology
At Vicky Tyres, we offer Hunter 2 wheel alignment Handsworth, an industry-best technology consisting of Hunter's patent HawkEye Elite sensors, 4 advanced digital cameras, and QuickGrip adaptors that inspect the camber, caster and toe angles of a vehicle with utmost accuracy. Unlike conventional methods, the advanced Hunter technological equipment offers 3D modelling of the vehicles axle geometry and locates the fault within 90 seconds.
The benefits of Hunter wheel alignment includes:
Lightweight construction
Experts favour Hunter wheel alignment technology due to its ease of use. The QuickGrip adaptors have an extremely lightweight construction, weighing only 6lb. The QuickGrip adaptor grips on the tyre with a spring-loaded arm, eliminating metal to metal contact, thereby preventing rim damage. It also has an off-centre switch to secure the clamp, which does not affect the measurement in any way.
Efficient and easy-rolling compensation
Rolling compensation is extremely crucial to ensure there are no mounting errors. In the traditional rolling compensation method, experts had to undertake a complete 360-degree wheel rotation to get a correct reading. But with Hunter patented QuickComp technology, this entire process is completed with just one roll forward.
Resting the sensors
The innovative Hunter WinAlign Wheel Alignment Software also enables our experts to reset all the wheel angles as per OEM standards. With the help of the CodeLink hardware device system, live display of data from the vehicle, the WinAlign software offers a fully integrated system to help our experts reset the sensors and complete all the OEM process without any hassle.
About our wheel alignment service
Depending upon the wheel drive mechanism of your vehicle, we will offer a comprehensive Hunter 2 wheel alignment Handsworth. We will thoroughly inspect all the essential wheel angles with the HawkEye sensors and digital cameras, which include:
Camber: Angle formed between the vertical axis of the car and the vertical axis of its wheels is called camber.
Caster: The angle formed between a car's steering axis and its wheels is called caster.
Toe: Angle formed between the wheel and its longitudinal axis is known as toe.
After identifying the cause of the issue, we will adequately align the wheel as per the manufacturer's recommended specification and reset the sensors for maximum safety.
Hence, look no further for 'Hunter wheel alignment near me,' and visit us at Chapel St, Handsworth, Handsworth, B21 0PA.
To know more, call us on 0121 515 4575.